Looking directly at the Sun is unsafe except during the brief total phase of a solar eclipse ("totality"), when the Moon entirely blocks the Sun's bright face, which will happen only within the narrow path of totality. To find out whether your home or any other specific location is within the path on August 21, 2017, see Xavier Jubier's Google Map, which supports zooming in to street level.
The only safe way to look directly at the uneclipsed or partially eclipsed Sun is through special-purpose solar filters, such as "eclipse glasses" (example shown at left) or handheld solar viewers. Homemade filters or ordinary sunglasses, even very dark ones, are not safe for looking at the Sun; they transmit thousands of times too much sunlight. See our Reputable Vendors of Solar Filters & Viewers page for a list of manufacturers and authorized dealers of eclipse glasses and handheld solar viewers verified to be compliant with the ISO 12312-2 international safety standard for such products.
Instructions for safe use of solar filters/viewers:
Note: If your eclipse glasses or viewers are compliant with the ISO 12312-2 safety standard, you may look at the uneclipsed or partially eclipsed Sun through them for as long as you wish. Furthermore, if the filters aren't scratched, punctured, or torn, you may reuse them indefinitely. Some glasses/viewers are printed with warnings stating that you shouldn't look through them for more than 3 minutes at a time and that you should discard them if they are more than 3 years old. Such warnings are outdated and do not apply to eclipse viewers compliant with the ISO 12312-2 standard adopted in 2015. To make sure you get (or got) your eclipse glasses/viewers from a supplier of ISO-compliant products, see our Reputable Vendors of Solar Filters & Viewers page.
An alternative method for safe viewing of the partially eclipsed Sun is indirectly via pinhole projection. For example, cross the outstretched, slightly open fingers of one hand over the outstretched, slightly open fingers of the other, creating a waffle pattern. With your back to the Sun, look at your hands' shadow on the ground. The little spaces between your fingers will project a grid of small images on the ground, showing the Sun as a crescent during the partial phases of the eclipse. Or just look at the shadow of a leafy tree during the partial eclipse; you'll see the ground dappled with crescent Suns projected by the tiny spaces between the leaves.
A solar eclipse is one of nature's grandest spectacles. By following these simple rules, you can safely enjoy the view and be rewarded with memories to last a lifetime.
---

This safety information has been endorsed by the American Astronomical Society, the American Academy of Ophthalmology, the National Aeronautics and Space Administration, the American Academy of Optometry, the American Optometric Association, and the National Science Foundation.
Note: This document does not constitute medical advice. Readers with medical questions should contact a qualified eye-care professional.
---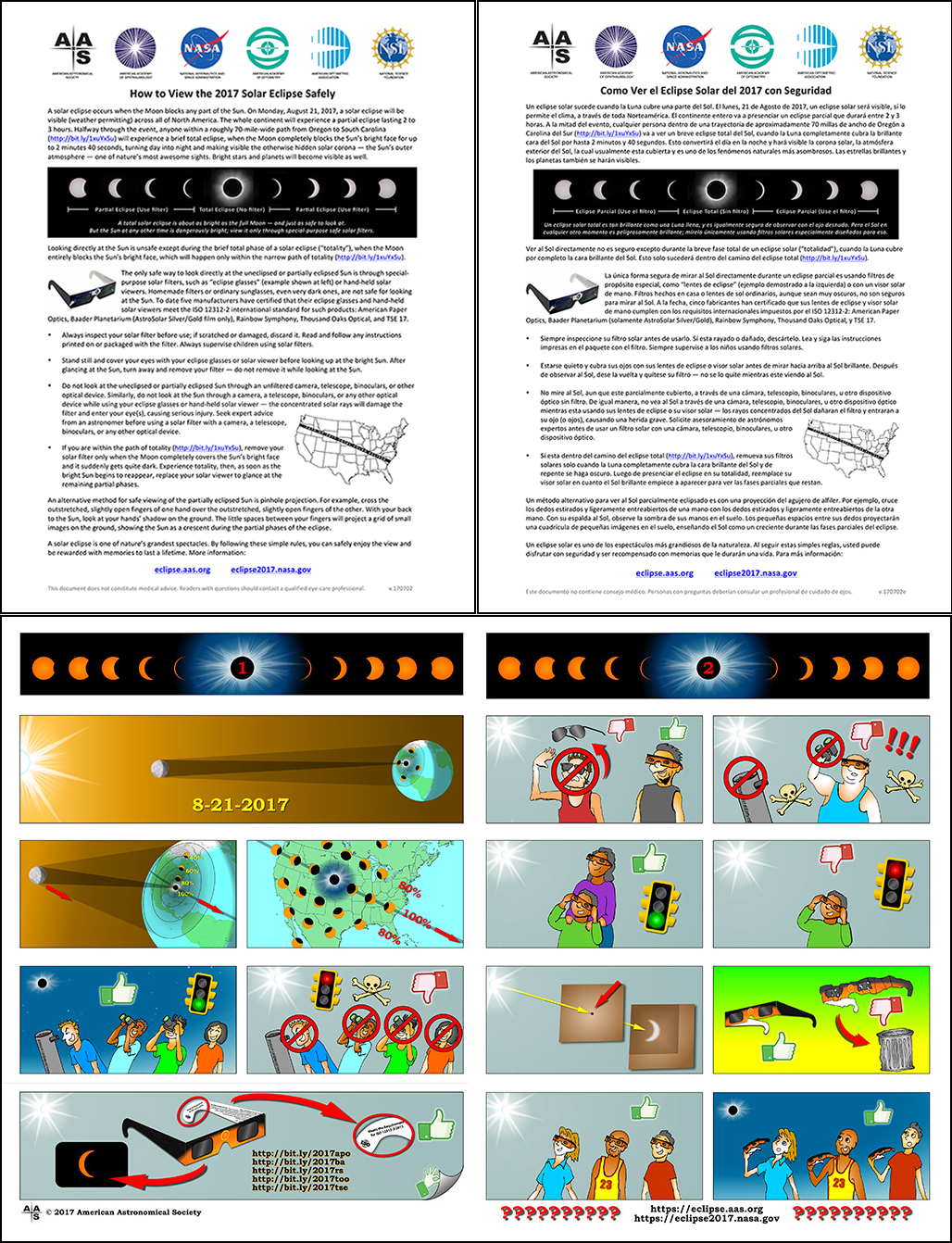 The information on this page is also available as a printable flyer — in both English and Spanish! If you're selling or giving away "eclipse glasses" or handheld solar viewers at an eclipse-watching event, we encourage you to hand out copies of the flyer along with the manufacturer's instructions. Feel free to distribute copies of the flyer to family, friends, colleagues, or anyone else who asks you about the August 21, 2017, solar eclipse. We also have a 2-page graphics-only version that works in any language!
More eclipse safety tips from the AAS & NASA:
Eclipse safety tips from the American Academy of Ophthalmology:
Eclipse safety tips from the American Optometric Association:
More eclipse safety tips from the eye-care community: